THE PITTSBURGH STEELERS' WAY OF "DELIBERATE PRACTICE" IS FEATURED AT LEADERS SERVING BEAVER COUNTY'S MARCH 2017 WORKSHOP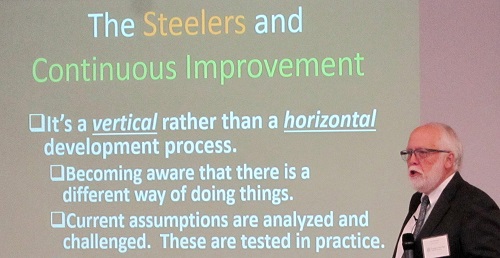 "Continuous improvement" through deliberate practice was Dr. Jim Dittmar's topic at the March 16, 2017 Leaders Serving Beaver County "Leader's Workshop" based on chapter 6 of Forged in Steel: The Seven Time-Tested Leadership Principles Practiced By the Pittsburgh Steelers.
In his comments, Dittmar discussed why the "process" of practice is so important and what kind of change that can produce. He also delved into how leaders can enhance the process of obtaining caidid feedback on their own performance, and the value of having one's very own "eye in the sky" and huddle to ensure optimal results.

Forged in Steel is a widely praised analysis of the Steelers' way. It's the first book to analyze organizational leadership values through the prism of a six-time Super Bowl winning National Football League franchise and the enduring values of Judeo-Christian faith. See what the media and corporate and community leaders are saying about Forged in Steel - more>>>
Dr. Dittmar is founder of 3Rivers Leadership Institute and longtime chair of the Master of Organizational Leadership at Geneva College. He taught chapters 1 and 3 of the book at LSBC's Forged in Steel workshop last year.

Final Class: To be led by Dr. John Stanko on Thurs., April 20, 2017 on "Mental Toughness."

Objectives of the Workshop: As a result of this seven-month workshop, participants will:

1. Utilize transformative principles of leadership for personal, spiritual, and professional growth.
2. Strengthen abilities to establish more effective relationships within your sphere of influence.
3. Create a personalized plan to clearly identify purpose, values and a leadership perspective.

Questions About Leaders Serving Beaver County: Contact Dr. Dittmar, chairman - email
Questions About the Book: Contact Mark Miner, Forged in Steel co-author and publisher - email
More About LSBC: LSBC works to equip Beaver County's organizational leaders with practical biblical principles they can apply in their work and workplace at a time when the region's economy is poised for its greatest expansion in a generation. - more>>>